Cook up dynamic web maps using the recipes in the Leaflet Cookbook.
Leaflet Cookbook will guide you in getting started with Leaflet, the leadling open-source JavaScript libary for creating interactive maps. You'll move swiftly along from the basics to creating interesting and dynamic web maps.
Even if you aren't an HTML/CSS wizard, this book will get you up to speed in creating dynamic and sophisticated web maps. With sample code and complete examples, you'll find it easy to create your own maps in no time.
A download package containing all the code and data used in the book is available so you can follow along as well as use the code as a starting point for your own web maps.
Preview Version Available
This preview allows you to get an early look at the book at a substantial discount. You can think of it as a beta version.
The book is 90% content complete, and is in the review process. You may find layout issues in the book. These will be corrected once the text is finalized.
The text has not been fully edited for grammar, punctuation, and layout—corrections may still be made prior to final publication.
If you purchase the preview PDF, you will receive the full electronic version at no additional cost once the book is complete.
If you want notification when books are updated, follow Locate Press on twitter. We'll tweet changes/updates to keep you in sync.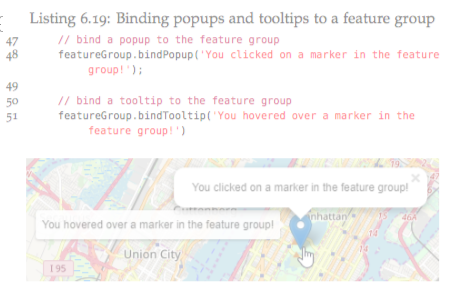 Contents
Introduction
Getting Started
The Map
Map Controls
Raster Layers and Web Services
Vector Layers
Working with GeoJSON
Getters and Setters
Layout and Styling
Events and Event Objects
Geoprocessing with Turj.js
Mobile Development and Geolocation
Databases
Advanced Topics
This is a preview version of the book and has not been completely edited for content, layout, or grammar. If you purchase the preview, you are entitled to all updates and the final version.